We awoke on Monday to a cold and windy day, with very poor visibility and decided to move round to an anchorage just off a small village called Le Fret, which is opposite Brest. It was a two hour trip and very unpleasant with the persistent cold drizzle and the visibility so poor we could hardly see the land.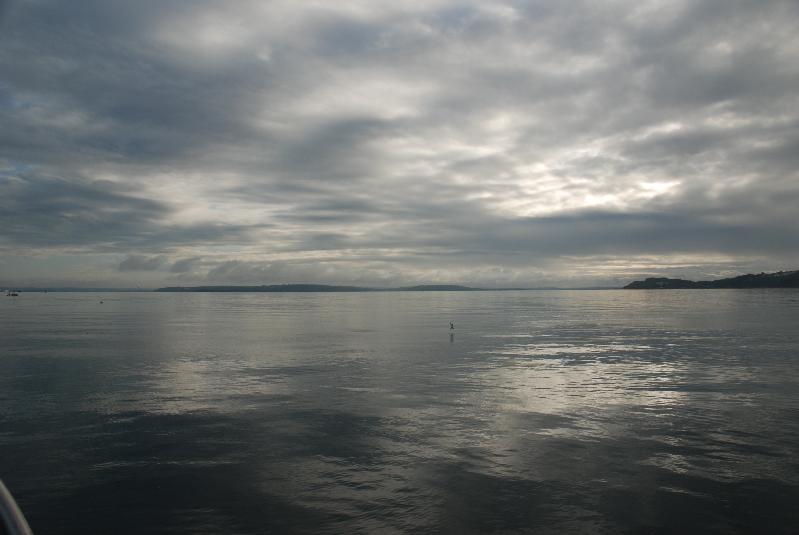 (Arriving in Le Fret)
My brother rang just after we arrived; he had spoken to mum and was curious why I was trying to write an article for Ottering Monthly. I explained that would be Yachting Monthly, but coming to think of it, when it's finished I think I'll submit it to Ottering Monthly as well.

The following morning was windy but a little clearer. David and Nicky on 'Balou' (which I think is a smashing name for a boat) invited us over for a coffee and biccies. We had been planning to catch the ferry from Le Fret to Brest to have a mooch around the city, until Nicky showed us a leaflet with the price on it - 17 Euros each. I'd want to keep the ferry for that and as the weather was rubbish, we decided to stay in Le Fret. We took the dinghy ashore to have a look around the village and found the one shop was closed, so we meandered along the seafront enjoying the view over the anchorage before heading back to the boat.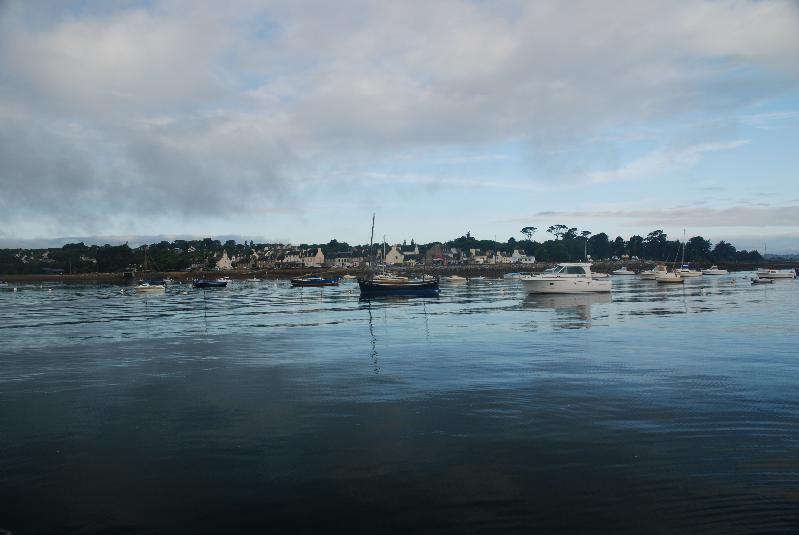 (The village and anchorage at Le Fret)

We were planning to set off across the Bay of Biscay to Spain on Thursday morning, so on Wednesday we moved back to Cameret as this is a better point to set out from. We pootled round at a gentle pace and decided to tow a fishing line behind us to see if we could catch lunch. About half way to Cameret, the wind picked up so we pulled the line in and found we had caught a small mackerel, too small to eat though so we threw it back (much to the relief of the mackerel I'm sure).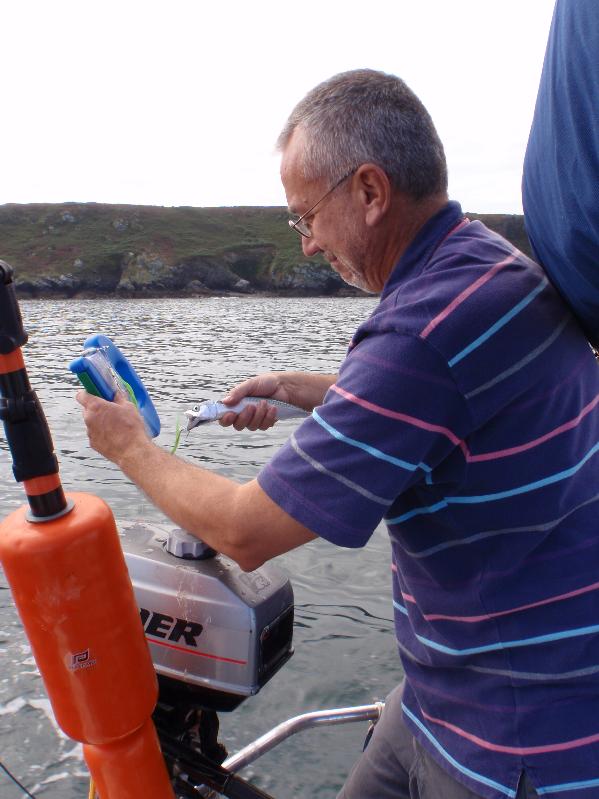 (John with the small mackerel (John is the one on the right in the stripey top))
There were several military boats in the harbour with a helicopter circling around the bay and it was a while before we spotted what they were up to. A submarine was coming into the harbour, I assume heading for the submarine pens we had sailed past on the way to Le Fret and the warships were obviously keen to keep other boats out of the way!
Instead of anchoring, we decided to go into the marina in Cameret as we needed to fill up the water tanks and do some washing which would have required lots of dinghy trips from the anchorage. There were large shoals of mackerel swimming through the marina chasing smaller fish and we noticed a lot of people fishing from the boats and pontoons, so I decided to give it a try and lowered the fishing line over the side of the boat. After a few minutes, a shoal of small fish swam past at high speed followed by a large shoal of mackerel in hot pursuit and I managed to catch two, which John gutted and cooked for lunch. Less than an hour from sea to plate, can't be bad!
In the evening we popped into the town for a pizza, which was rather smashing. During the meal, a French family came in with seven children aged between about two and 14 and occupied three tables next to us. It struck me how immaculately behaved the children were, sitting quietly and perusing the menus if you can overlook the two year old repeatedly stabbing his fluffy rabbit in the head with a fork (which may also explain why the mother asked the waitress to take away the youngest children's knives).
I was nervous about setting off on Thursday across the Bay of Biscay as this would be the longest passage I had completed by a long way. I took some advice I had read recently and avoided alcohol and started taking seasickness pills on Wednesday evening.


We set off as planned at 9am on Thursday morning. On pulling up the anchor, we found it had caught around a large heavy chain, obviously the remnants of an old mooring. We managed to pull the anchor (with the chain) just out of the water and John got in the dinghy for a closer inspection. He tied a rope from the boat, around the chain and back to the boat and then I lowered the anchor a couple of feet and lo and behold, the anchor came free of the chain. We pulled the anchor up again, making sure to avoid the chain that was still attached to the boat by the rope and then let one end of the rope go and pulled it in so we dropped the chain. Very expertly done, but don't tell John I said that as he will get big headed.
We had a good day's sail and I was careful not to do anything that could encourage seasickness. I didn't go below unless I had to, didn't read and kept on taking the seasickness pills and thankfully (and slightly amazingly) I was absolutely fine.
(Crossing Biscay)
As it was very cold overnight, we took it in turns to do short three hour watches, which on the first night passed quickly with the help of my iPod and lots of episodes of the Radio Four News Quiz as well as Stephen Fry and Armstrong and Miller podcasts.


While I was off watch and sleeping on Friday morning, John shouted down that there were dolphins swimming with the boat. I leapt up and ran up on deck to find a large pod of dolphins swimming alongside, under and in front of the boat and leaping in the air. It was truly wonderful. They were small 2-coloured dolphins, grey on the top and creamy-white underneath. Kind of like the Triumph TR7's of the marine world, except I imagine they are less prone to spontaneous combustion and rust ( I do realise anyone under the age of 30 reading this will probably have no idea what a TR7 is, as they didn't last that long).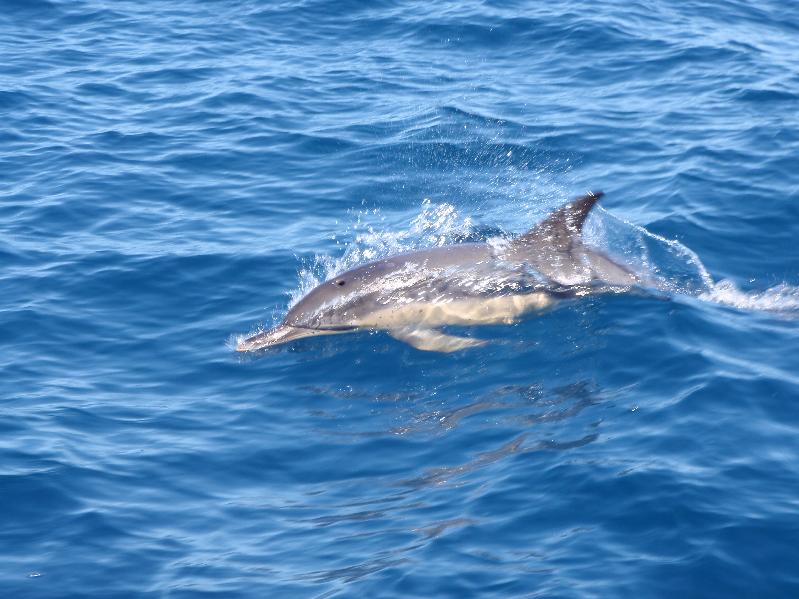 (A TR7 dolphin)
I watched them until they swam away and returned to my bunk, only to be awoken a short time later by John shouting "Whales!" I hoped he meant the mammal variety and not the country as that would mean our navigation was a tad patchy, so I jumped up again and ran up on deck. In the distance we could see whales spouting and could see them on the surface through the binoculars before they dived down a few minutes later. I was tempted to return to my bunk again but I'm not sure I could've coped with what might have come next (a giant octopus? Godzilla?) so I stayed up.

Early the following morning when I was on watch, a very strange looking fishing boat passed by and then I noticed a plane circling a little way in front of us.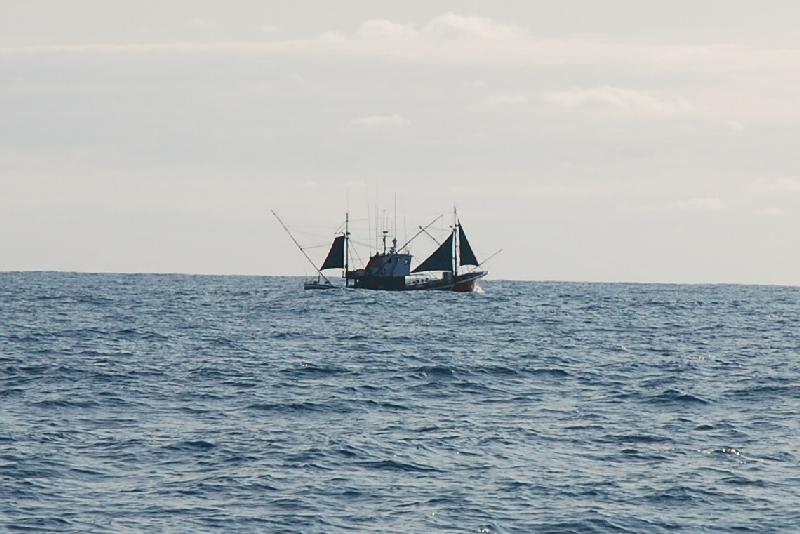 (The strange fishing boat)
I switched on the vhf radio in case in what a search and rescue plane, but there were no emergency transmissions. I continued to watch it and after about an hour I saw a large warship appearing over the horizon and realised the plane was actually circling the warship. As time passed, I realised we were getting closer to the warship and when it turned towards us, I woke John up! We switched on the radar so we could see what course and speed the ship was taking to find initially it was hardly moving at all, but within seconds of us switching the radar on (which apparently they can detect), it shot off at huge speed leaving a puff of black smoke in its path. I have no idea what nationality it was or what it was doing but it obviously didn't want anyone to be anywhere near it!
As time passed I got more used to the motion of the boat and finally found my sea legs (turns out they were in the fridge behind the milk all along) and managed to pass my watches playing Scrabble on my Nintendo DS and even read for a short while.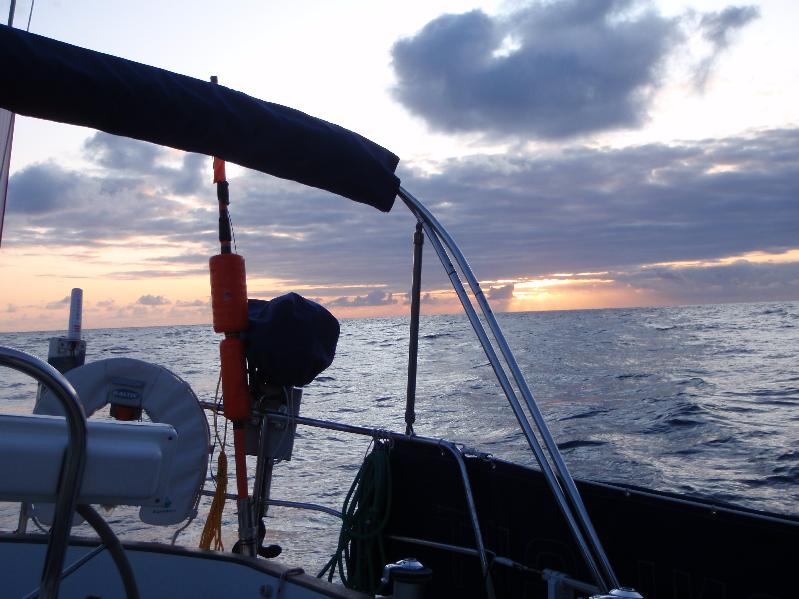 (Sunrise in the Bay of Biscay)

During Friday night, on one of John's watches, one of the lazyjack ropes on the one side snapped (the lazyjacks are thin ropes that run from the boom diagonally to the mast so when the mainsail is dropped it falls into the sail bag on the boom rather than flopping all over the deck and into the sea).

Saturday was colder than the previous two days and as we approached Spain, time seemed to pass slower and slower. This is what I call the Santa syndrome. When you know something good is a long way off, time seems to pass quite quickly but when you know the something good is close, time slows down and it seems to take forever to arrive (like waiting for Christmas day when you are a child).
A small pod of larger grey dolphins swam with us for a very short time, but otherwise we just watched as night fell and the dark hills of Spain loomed gradually closer.
Finally after 62 hours at sea, we arrived in Cedeira at 11.30pm, following the lights of lighthouses and buoys into the anchorage from the passage plan John had created by meticulously studying the charts and guides, which turned out to be essential as the coastline is rocky and the chart plotter which had worked perfectly well up until this point decided we were in a duck pond about half a mile inland.
I found this all a little unnerving, arriving in the dark, especially in the anchorage where I struggled to see the other boats anchored, very few of which had anchor lights on.
We anchored on the second attempt, and exhausted from very little sleep, we poured ourselves a glass of chilled Sancerre Rose to celebrate our arrival. I took one sip and then spent a few minutes emailing and texting friends and family to let them know we were still alive and hadn't been eaten by sharks, then John asked me if I wanted a top-up and promptly finished off the bottle. After that I got no sense out him whatsoever.
It occurred to me that the boats in the anchorage I couldn't see were white, and Moonlight is dark blue, so we put the anchor light on and checked it was working before we retired for much needed sleep.

This morning greeted us with bright blue skies and sunshine.
The lazyjack line that snapped needed replacing and as John can hoist me up the mast much easier than I can hoist him up, I climbed into the bosuns chair (a kind of seat in a harness that is attached to a rope and pulled up the mast) and braced myself (I have been up the mast before, but only up to the first set of spreaders, which is less than half way up, when I tried to replace the deck light bulb shortly after we bought the boat. After I had been up five times and broken the light a little more each time, John had to go up and replace the whole fitting).
The lazyjack line needed threading through a block just below the second set of spreaders, which is about 35 feet up the mast.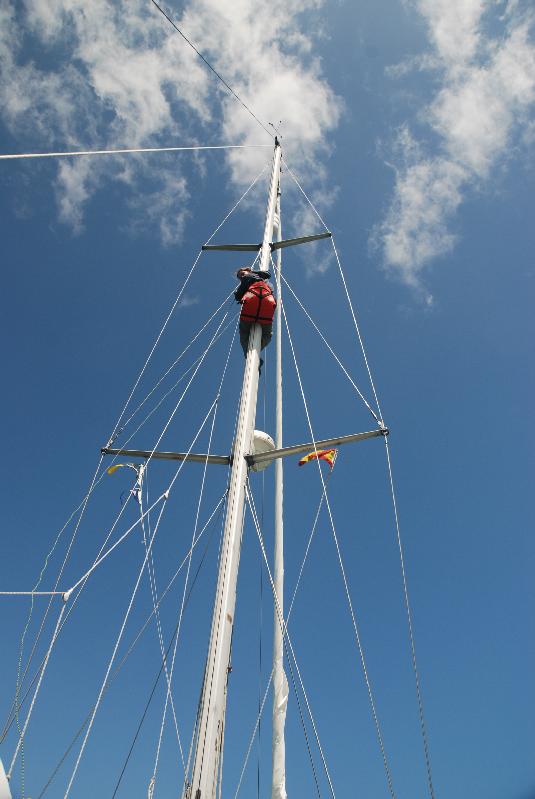 (Ann climbing up the mast!)
As I clambered up the mast, trying to pull myself up on anything I could grab hold off, John pulled the rope attached to the bosuns chair tight, my legs turned to jelly and I had to keep stopping to compose myself. By the time I got to the block and fed the rope through I was a jibbering wreck, but I made sure I took some photos to prove I had done it!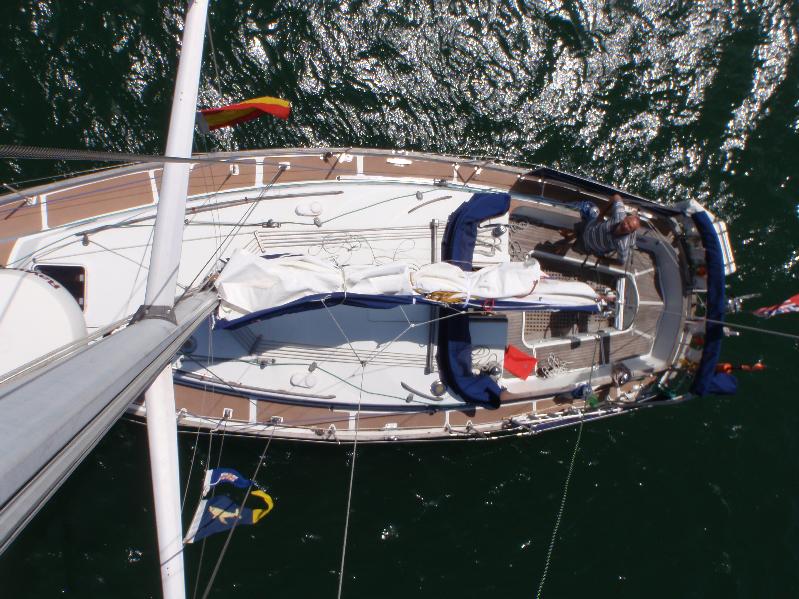 (View from up the mast)
Once we had re-attached the lazyjacks, we inflated the dinghy and ventured ashore. We walked along the beautiful sandy beach and had a paddle in the cool water before exploring the town looking for something interesting we could cook for dinner, but all the shops were closed as it is Sunday. We did find a market stall that was selling local food though, and John took a fancy to a strange flat pie creation with some kind of indistinguishable fishy filling. By the time I had delved out my Spanish phrase book so I could ask what was in it and how much it was, John had bought a piece the size of a football pitch for 12 Euros.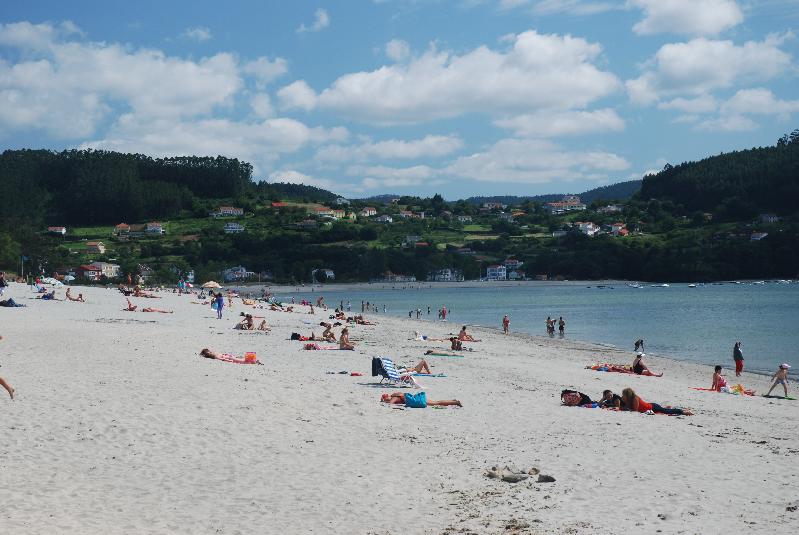 (The beach in Cedeira - there are lots more Cedeira piccies on the Photo Album page)
We stopped off at a bar on the way back to the boat for a cheeky cool beer in the sunshine and when the waiter told us how much it was, although I had managed to learn the numbers one to 15 in Spanish, I was convinced I had got it wrong, but I hadn't, it was 2.70 Euros for two beers. The same in France would probably have cost closer to 8 Euros. A damn good reason to be in Spain methinks.
We pootled back to the boat and enjoyed half a football pitch between us for dinner and retired to try and catch up on more sleep.