We set off early on Tuesday morning and made our way south towards Fort Lauderdale to meet the ship that would be taking Moonlight home. We passed through Lake Worth and into a network of canals, with huge palatial homes all the way down on both sides, very few of which showed any signs of life or of being lived in.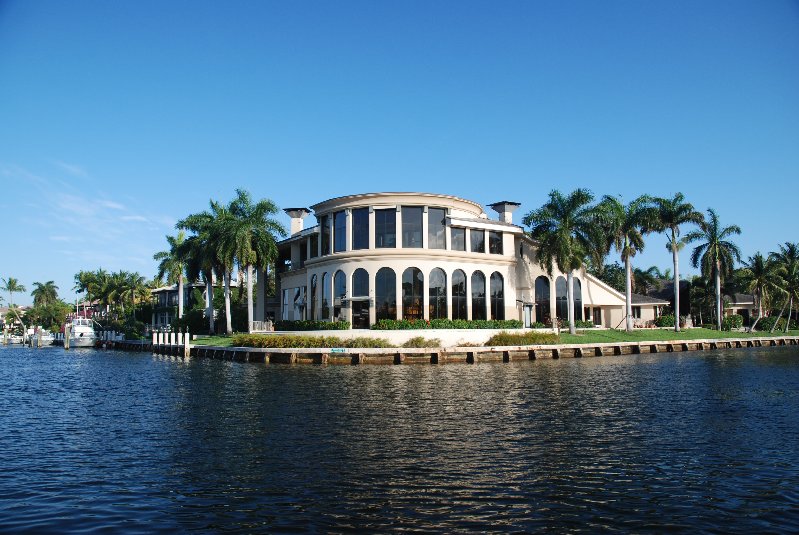 (An average house on the waterway!)

As we as enormous houses, we also passed several enormous powerboats, one with a helicopter on the deck!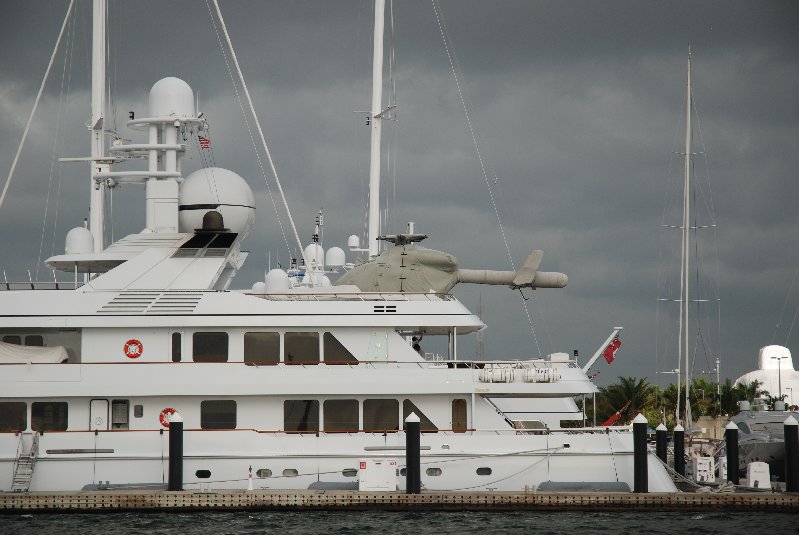 (An onboard helicopter - now that's just showing off!)

There were several bridges to pass through which only opened at certain times and we managed to time them reasonably well, although we had to wait for a couple of them and Dave and Elaine who left after us soon caught us up.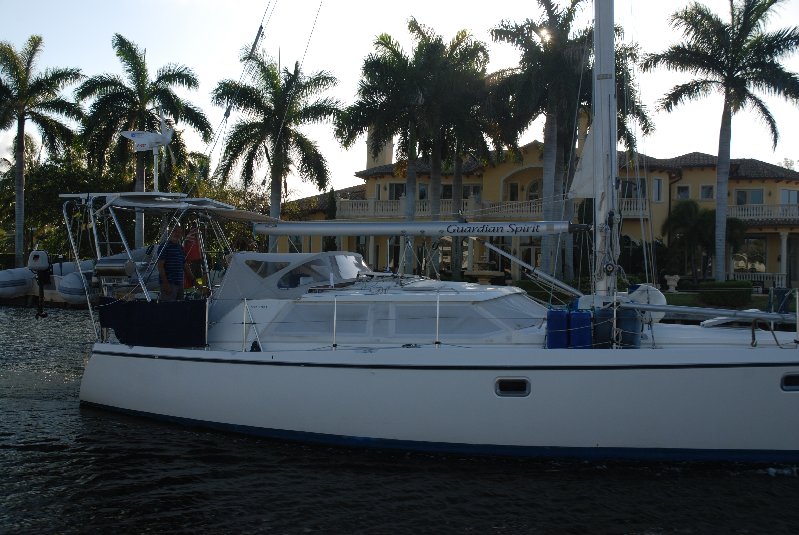 (Guardian Spirit travelling alongside us after catching us up)

We travelled the rest of the way together and anchored in Boca Raton lake, which was lovely. The water looked so inviting and it was so hot that even I got in for a swim after we had anchored, partly because I was very aware that it would probably be the last chance I ever got to swim from the boat.
We didn't have much food left at all and I'd had to pick off bits of mould from the last bread buns which we had eaten for lunch (which made me chuckle at all the thought that some people think living on a boat is glamorous!) but we managed to rustle up something for dinner from our store of tinned and dried food.
Wednesday turned out to be a longer day that we had anticipated as we had so many bridges to pass through, which all had timed openings and we ended up waiting several times.
The waterway was still strewn with enormous mansions, which ranged from the fabulous to the incredibly tacky. There is certainly a business somewhere nearby that does a roaring trade in tacky garden ornaments, fake roman pillars and hideous statues. Statues-R-US or Garden-Tat-4-U or something similar no doubt.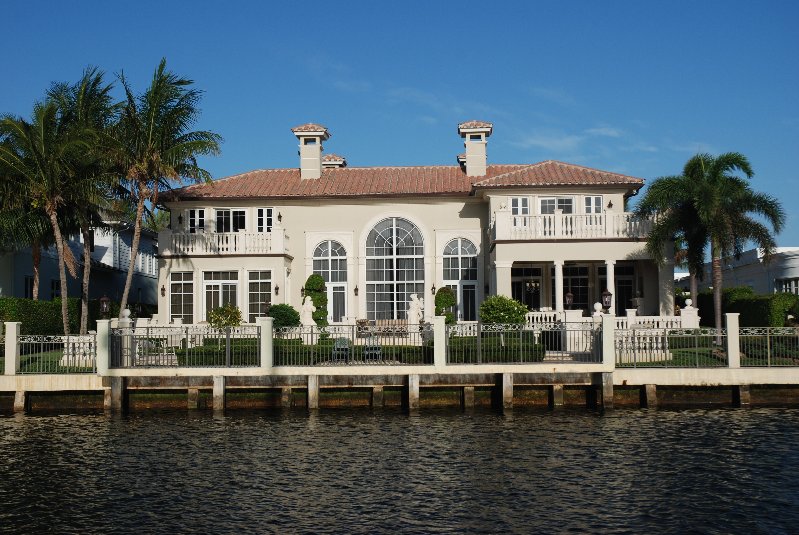 (Another average waterway home)

The area was so built up there was very little wildlife to be seen, although Dave and Elaine did spot some manatees (which we missed) and we saw some green parakeets that flew over the boat and landed in a tree on the shore nearby as we were waiting for one of the bridges.
When we got to Fort Lauderdale, we tried to anchor in Middle River, which we had heard was a good spot, but there were already several boats in the small anchorage, we couldn't get the anchor to set and the current was making us swing all over the place, so we decided to carry on through the next bridge where we knew there were some moorings.
Luckily there were two moorings free, so we picked one up and Guardian Spirit picked up the other. They were very expensive at $35 a night, but much cheaper than any of the nearby marinas and there wasn't really anywhere else we could try to anchor. As we were close to the bridge, we were in a no-wake zone, so any passing boats had to travel at a slow speed and we enjoyed sitting in the cockpit watching all the superyachts pass by.
We went ashore in the morning and walked to bus stop, noticing along the way that everyone we saw was blonde, thin and wearing lycra. The bus took us a couple of miles to the nearest supermarket and as we got off the bus we heard a car hooting and looked up to see Dave and Elaine in a car they had hired to pick up some things they had in storage in Orlando the following day.
After possibly the best burger I have ever had at Five Guys with Dave and Elaine for lunch, we had a look around an amazingly well-stocked nautical bookshop, a large wine store and then popped into the supermarket to get what we would need to keep us going for the next few days.
Back at the moorings, the boat on the mooring next to us had left and a new boat had come in, which we remarked looked exactly like Windfall, which we had met in the Bahamas the previous year. It wasn't until we were sitting in the cockpit a little later watching the world go by that the current make the boats swing round a little and we saw that is was Windfall, so we popped over to say hello to Raffi and Lisa on board.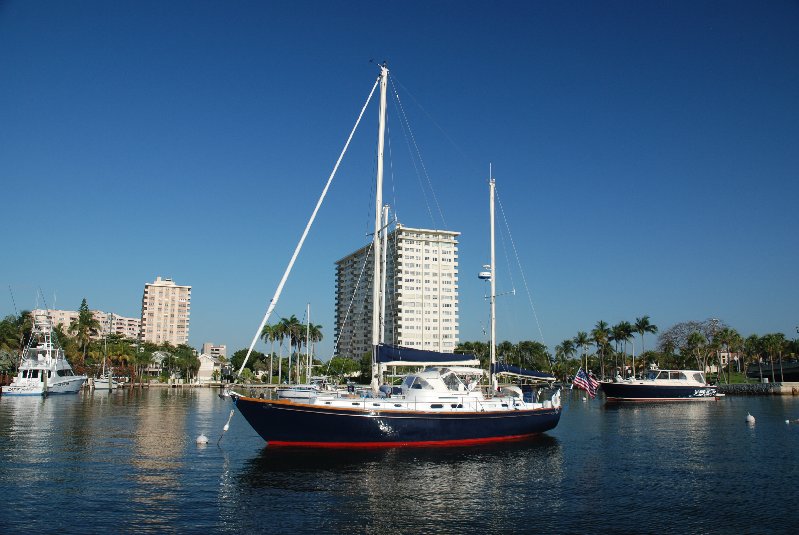 (Windfall)

Still not having a confirmed loading date for the ship, we were starting to worry that we would miss our flights that we had booked for Monday afternoon, so John called Virgin on Friday morning to find out if we could change our flights. The answer was that we could. The bad news was it was going to cost us $275 each to change the flights, the good news was we could change them at any time up until the plane left, so could wait a couple more days and see what happened.
We finished preparing the boat, taking down all the canvas including the sprayhood and the bimini (again) and got the dinghy loaded up onto the deck ready for the short trip to the port where the ship was due to arrive in the next day or two.
The ship was finally to arrive on Saturday evening and we would be loading Moonlight some time on Sunday in the afternoon. It was a very windy and rainy day and we were worried about the boat being craned aboard the ship in such bad weather and contacted the shipping company who said they had to leave the port by 8am on Monday morning, so they would be loading whatever the weather.
We made the final preparations to get the boat ready for the journey and packed our bags for the flight.
Neither of us slept much that night.
Guardian Spirit were due to load onto the ship at 11am yesterday morning, so they headed off down to the ship in the morning and phoned us a couple of times with updates while we stayed on the mooring as we were not due to load until 4pm.
We got a call from the ship loadmaster later in the morning to say that the cradle that they needed to secure Moonlight to the deck of the ship was on a truck in Palm Beach and they 'couldn't find the driver' and we spent the next few hours worrying that we weren't going to make it onto the ship before we got another call to say that the cradle had arrived and we could go down to the dock any time and tie up against the ship.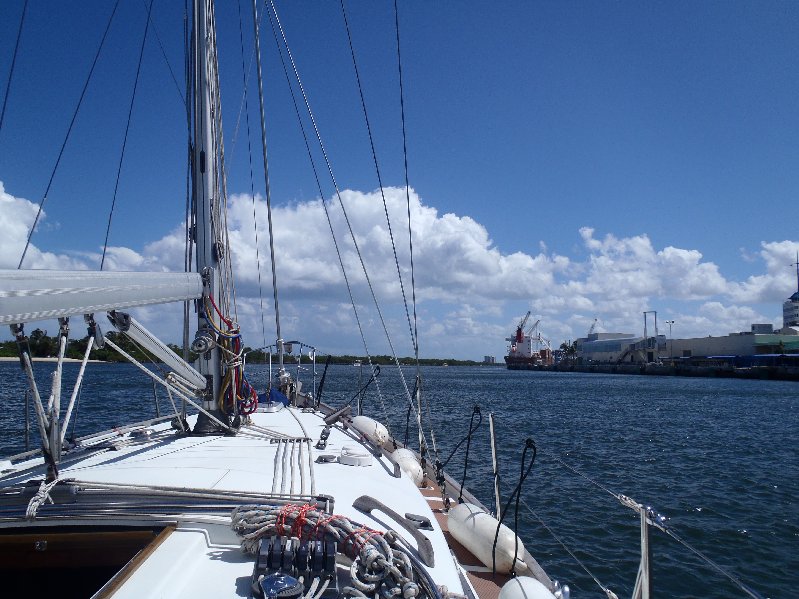 (The short trip to the port)

When we arrived at the ship, Guardian Spirit were still tied up alongside as they were running behind schedule.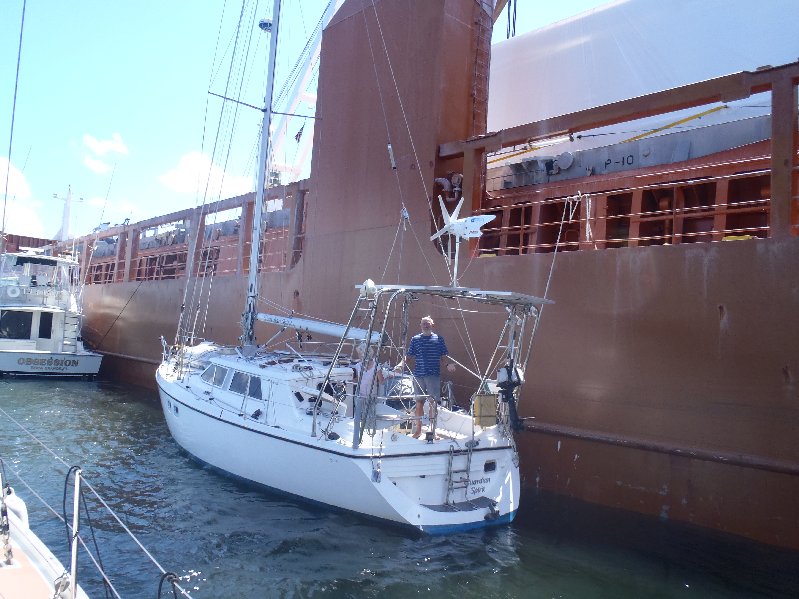 (Guardian Spirit tied up alongside the ship)

It took three attempts for me to successfully through the lines to workers on the ship so they could secure us alongside and we waited for our turn. We had to move away from the ship twice to let other boats load before us, so we had the trauma of coming alongside the ship two more times (thankfully Dave came aboard the last time to help throw the lines to the ship!) The whole thing seemed very disorganised and Guardian Spirit didn't get loaded until 5pm – six hours late.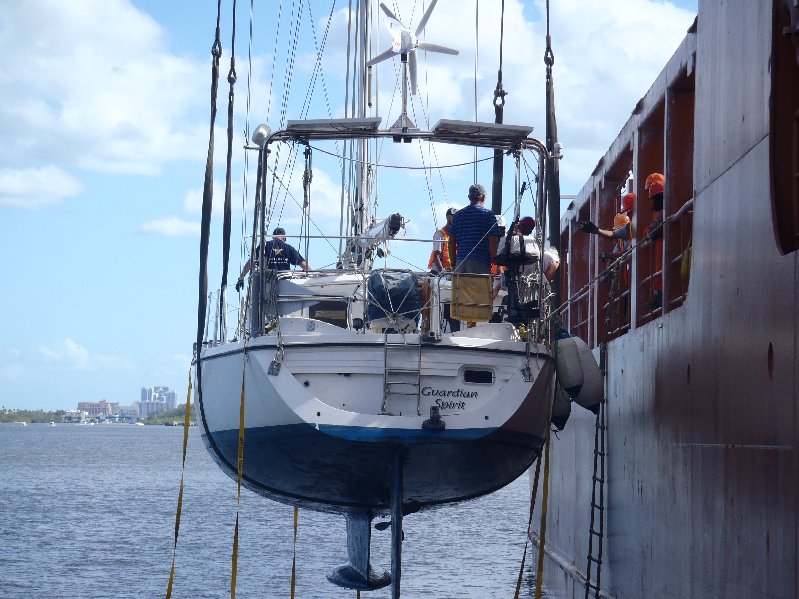 (Guardian Spirit being loaded onto the ship)

We heard a little later that they had hit a problem. The boats had been loaded in the wrong sequence and one boat needed to be loaded over the top of one that was already on deck. The ship workers spent a long time measuring the boats and finally decided that the only way they could get the boat over the other one was to change the slings on the crane, which would take several hours and as it was so late (9.30pm by this time) they were all going home and going to do it in the morning.
Moonlight was due to be loaded after the boat that needed the different slings, so we wouldn't be loaded that night either. This meant that we would have to leave Moonlight tied up alongside the ship overnight and trust the shipping company to load the boat the following morning and secure the boat on deck without us being there to see it happen or check that everything had been done properly as we were due to fly home the next day. The loadmaster promised us that he would personally secure the boat and we had no choice but to leave it in his hands.
At the end of a very stressful day, a boat picked us up along with Dave and Elaine (who had waited for us after their boat had been loaded) and took us ashore. We both felt emotional, upset and worried that something else might go wrong and we would fly home without Moonlight being loaded onto the ship.
Dave and Elaine's friends Nancy and Norm met us ashore, gave us a stiff drink and took us out for a slap up dinner, which was just what we needed. Our mood couldn't last with such good company and we had a fun night despite our worries, before heading back to an apartment belonging to Nancy and Norm who had very kindly offered to let us stay there along with Dave and Elaine.
John popped out this morning to find something for breakfast and came back with some croissants for us all which we enjoyed with a morning cuppa and Nancy came round to show us around her boat, which she lives aboard in a nice quiet dock on the waterway.
Nancy dropped me and John back at the apartment where John had a snooze and then came back later on with Dave and Elaine and some lunch which we ate next to the apartment block's swimming pool.
After lunch, Nancy drove us to the airport in Miami to catch our flight and Dave and Elaine came along for the ride and to wave us off. It was a sad goodbye, not just to our friends but also to the USA, which marked the end of our big adventure.
We checked in for our flight and at 4pm we finally heard from the shipping company that Moonlight had been loaded onto the ship and would also be heading home.