Still having lots of planning to do for shipping Moonlight and flying us home to England, John spent last Tuesday in the marina lounge to make use of the wifi while I went ashore to have a mooch around the shops, get a few groceries and stock up on my favourite chocolate bars that we can't get back home (Mars Three Musketeers bars, which taste the same as Milky Ways used to taste years ago).
I joined John back in the marina lounge and we met an English couple called Ted and Kay from Moorglade who joined us for sundowners later in the evening.
After a quick dinner, we headed over to Lynton and Carol's boat to watch a film and had a really nice evening watching Galaxy Quest with them, which was hilarious.
We both went ashore in the morning and bought far too many grapefruits, forgetting that we will be going home very shortly!
Julie invited us out for dinner in the evening and we had a fun time at a good American restaurant with her and Marty. We had hoped to see a band play at another bar afterwards but when we arrived we found that the band had stopped playing as a neighbour had complained about the noise, which was a shame as we had seen them play before and they were very good.
Back at the marina, we were very sad to say goodbye to Julie as we had thoroughly enjoyed all the time we had spent with her during our time in Florida and were both going to miss her.
As we were getting ready to leave in the morning, Lynton, Carol and Buddy came over in their dinghy to say goodbye and it was another sad farewell.
We had a long day travelling down the waterway, with not a lot to see as the river was very wide in places and there wasn't much of interest to look at on the land, but we did spot several nesting ospreys along the way.
In the most part, we had found powerboaters to be very polite, particularly near Vero Beach and they would usually slow down as they passed by so as not to cause too much wake and rock us around, but as we headed south down the waterway we found the powerboats to be less and less considerate and after while John gave up shouting after them as they whizzed by far too fast and far too close to us.
We travelling for most of the day and stopped in the late afternoon, anchoring off the waterway in what was settled water until the wind came round giving us rather a choppy night.
Moving on south again on Friday morning, there were a series of bridges that only opened at certain times and we had heard they were very strict about only opening on time and  for the minimum time necessary. We were late reaching the first bridge, but we called up the bridge operator who was a very pleasant lady who held the bridge open for us until we could get there (which saved us waiting for half an hour until the next opening). We motored as fast as we could to try and reach the next bridge, but the openings seem to be timed for the speed a powerboat would travel between them and as we had been late getting through the first one we were already behind. Thankfully the next two bridge operators also took pity on us and held the bridges so we made it through them all without being held up. The next two bridges opened on demand and had the grumpiest operators we had come across, maybe because they had to open whenever anybody asked while the other nearby bridges only had to open every half hour and could put their feet up in between.
When we arrived at the anchorage in north Lake Worth, where we planned to stay until we loaded Moonlight onto the ship in nearby Palm Beach, we started to get the boat prepared straight away. The wind was due to build up over the next few days, so we took advantage of the light winds that afternoon to take the sails down and store them away down below.
We had been in touch with Dave and Elaine on board Guardian Spirit over the past few days as they were also considering shipping their boat back on the same ship as us and just as we finished taking the sails down, we saw them sailing into the anchorage and it was lovely to see them again.
An email from the shipping company confirmed that we would be loading Moonlight onto the ship on Wednesday 18th April.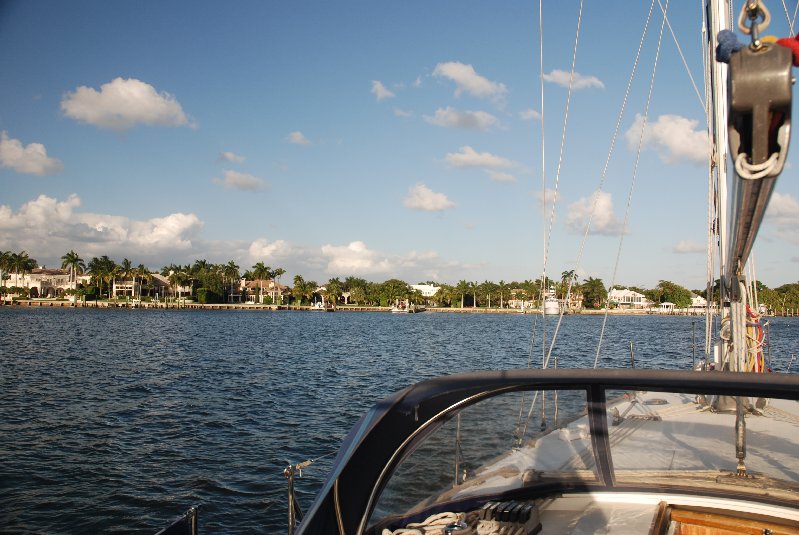 (Anchored in Lake Worth)

We spent the weekend on board getting everything ready and catching up with Dave and Elaine. We took the dodgers and bimini down and started securing everything down below and planning what we would need to take back on the flight with us.
Another email from the shipping company this morning gave us a bit of a shock when it stated that the location for boarding the ship had been changed from Palm Beach to Fort Lauderdale, which was two days travelling for us down the Intra Coastal Waterway. It was also going to be late, which at least bought us a little more time.
Dave and Elaine had decided they would be shipping their boat back too, so we went through all the paperwork with them and we put the bimini back up ready to travel south again in the morning.
Elaine cooked us a wonderful dinner in the evening, which was particularly appreciated as we had hardly any food left on board, having thought we would be loading the boat onto the ship in a couple of days time!
The revised date for loading hadn't been confirmed but as we were assured it would definitely be leaving from Fort Lauderdale, we got an early night ready for another early start and another couple of days travelling south.