Summer had definitely arrived and it was a very hot day last Monday when we ashore to Titusville marina and walked through the park, across the bridge to Merritt Island. We decided to explore Gator Creek again, as we had last time we were here and although we spotted lots of vultures, ospreys (including a nest with a very fluffy chick in it), red cardinals and herons, there were still no gators to be seen.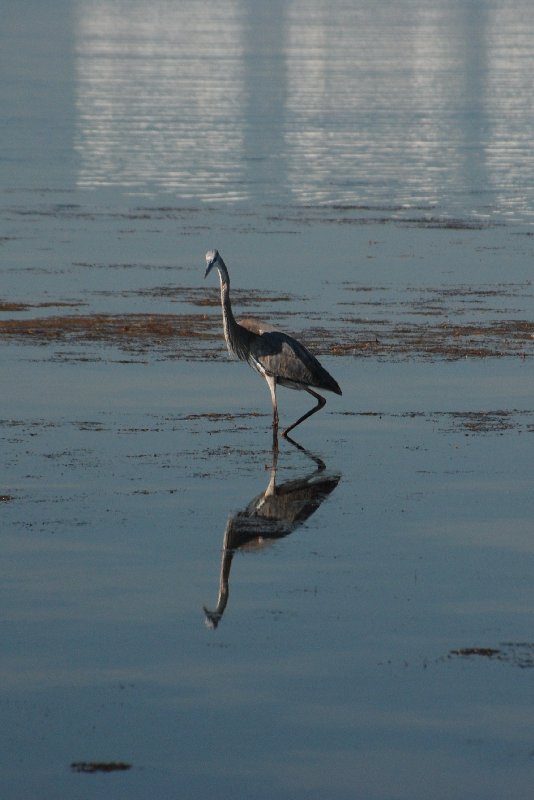 (Heron)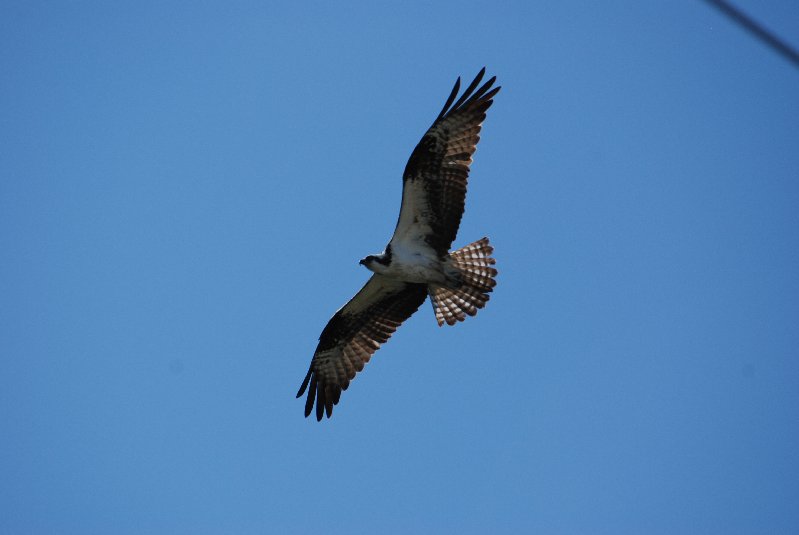 (Osprey)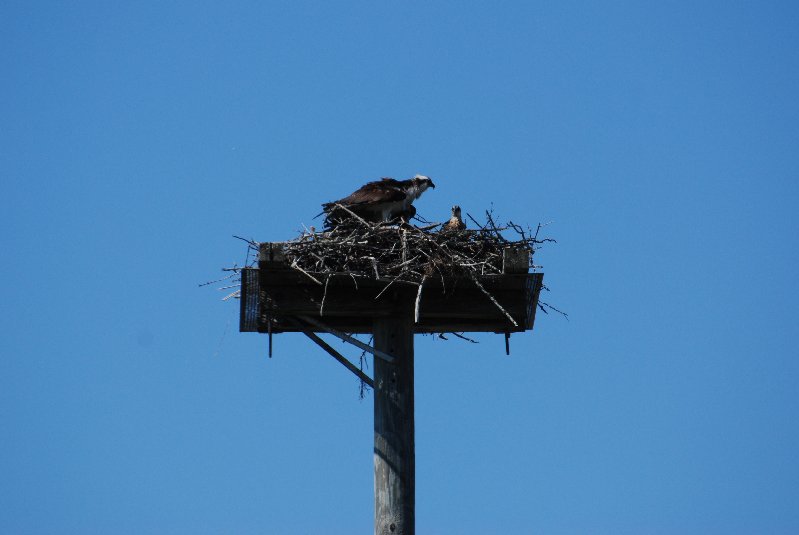 (Nesting osprey with chick)

We walked back across the bridge and into town to cool down in the Sunrise bakery with a cool drink (last time we were here we spent our time warming up in the bakery!) and stopped to watch the manatees in the marina for a while before heading back to the boat.
We received an email from the shipping company on Tuesday morning, asking whether we would like to go home on an earlier ship, due to leave Palm Beach on 18th or 19th April (a month earlier than the ship we were booked on). With John desperate to see his new grandson, we jumped at the chance and agreed straight away.
In light of this, we decided to carry on south straight away and get to Vero Beach in two long days rather than three shorter ones.
It was a long and uninteresting day travelling south, although we enjoyed spotting the plentiful dolphins and moon jellyfish that were suddenly abundant in the waterway.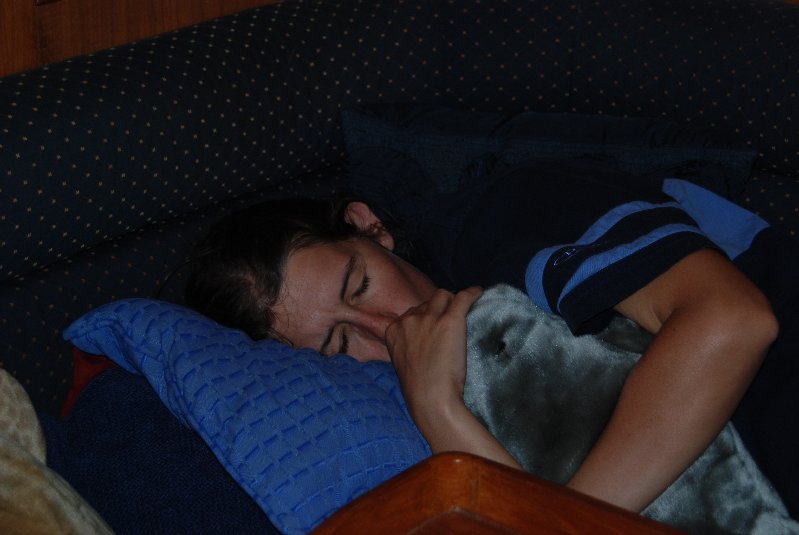 (Snoozing with Mungo the Manatee on the way south)

The wind allowed us to sail for a lot of the day on Wednesday and after an early start I made us each some toast and we sat either side of the cockpit, next to the guardrails to eat it while we each kept a lookout ahead of us on either side of the sail. As we were tucking in, there were two large splashes and two dolphins leapt out of the water simultaneously on each side of the boat right next to us, making us both jump. I'm sure they did it on purpose and I watched the dolphin on my side swimming alongside the boat, it saw me looking and splashed its tail on the surface several times to splash me! They stayed swimming alongside us for some time, which hasn't happened very often in the waterway as the dolphins are so used to seeing boats.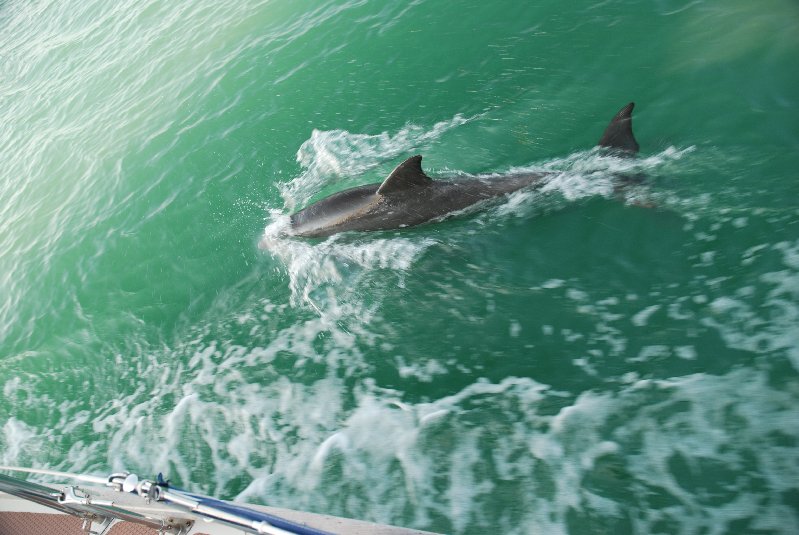 (One of the playful dolphins)

We arrived in Vero Beach in good time and rafted up on a mooring alongside another boat and I popped ashore to catch the free bus to the supermarket while John spent the afternoon organising all the paperwork we needed to complete to ship Moonlight back to England, including US and UK Customs paperwork.
We had requested to travel on the ship along with the boat but we had been told that wasn't possible, which we didn't really mind as it meant we could fly home as soon as the boat had been loaded onto the ship and we would have plenty of time to see John's grandson before the boat arrived in England 10 days later.
After a busy day we decided to treat ourselves to a takeaway pizza, only to find after it had been delivered that it was the wrong one and not what we ordered. I called Dominos to complain and they said we could keep the pizza and give us a free pizza next time we ordered one, which sounded pretty fair to us.
John had transferred all the forms and paperwork for the shipping onto a USB stick and we caught the bus to town on Thursday morning to get all the paperwork printed out so John could sign it and copies of the boat papers and John's passport, which we also had to provide. After a spot of lunch in town, we caught the bus back to the marina and after a very busy morning, it was great to get all the paperwork sent off so we could relax!
We went ashore again in the evening for the weekly cruiser's sundowners and met Julie there before heading out to dinner with her and Steve.
Julie kindly drove John to a hardware store in the morning so he could get some more engine oil and do some shopping at Walmart while I tidied and re-organised the boat so I could start taking photos of the interior to use when we put Moonlight up for sale on our return home. The boat we had been rafted up with left in the morning, so we were alone on the mooring and I was able to play music, sing along and dance around the boat as I tidied without disturbing anyone else.
An English couple we met in the marina lounge, Lynton and Carol, came round for a cuppa in the afternoon and we headed ashore in the evening to meet Julie at the weekly Power Squadron get together before heading into town with Julie for a rather good and very reasonably priced Mexican dinner. Cheap restaurants are one thing we are really going to miss back home!
Saturday was very windy, so we stayed on the boat all day. While I tried to catch up on the blog and photo sorting, John fixed the toilet door handle and then serviced the toilet pump and changed the seals on the toilet seat. Rather him than me!
We finished cleaning and tidying in the afternoon and took the rest of the interior photos of the boat and John created an inventory of what equipment was for sale with the boat along with full details of the boat so we were ready to advertise the boat as soon as we got back.
We both went ashore yesterday to use the wifi in the marina lounge and while I updated the website, John looked for flights home and hotels we could stay in for a night or two in between the boat being loaded onto the ship and our flight home. We also decided that we might as well start advertising the boat for sale straight away, so John created an online advert and booked an ad in Yachting Monthly for the summer issues.
In all the chaos of trying to get everything sorted out and arranged a month earlier than we had expected (and only a couple of weeks away), it was difficult to take in the enormity of our three year adventure coming to an end, putting the boat up for sale and making the move ashore (with no idea where that would be yet!)
Lynton, Carol and their dog Buddy joined us aboard Moonlight for sundowners in the evening and stayed to share our free Dominos pizza with us.
Julie offered to take us for drive to see more of the area and we took her up on her kind offer this morning and met her ashore before heading out into the countryside.
Our first stop was at a beautiful beach that was quite busy due to the Easter holidays before carrying on to some wetlands to look for alligators.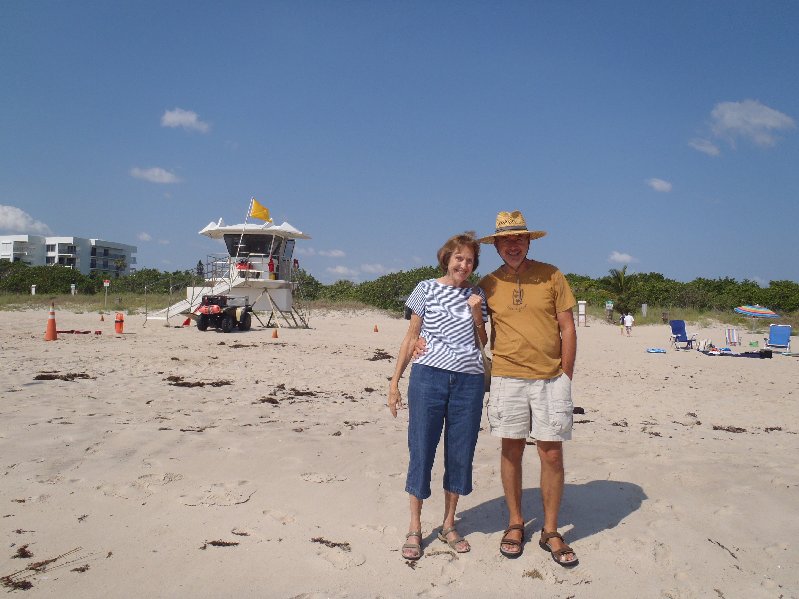 (John and Julie on the beach)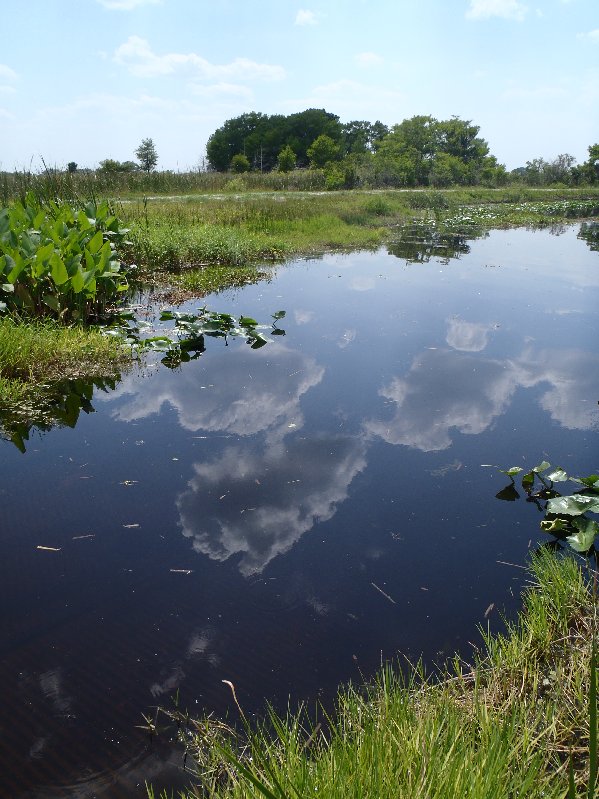 (No gators to be seen!)

We didn't spot any gators but enjoyed the scenery nonetheless and spotted some red cardinals and a bluebird. I quite fancied a ride on one of the airboats but unfortunately they were all booked up.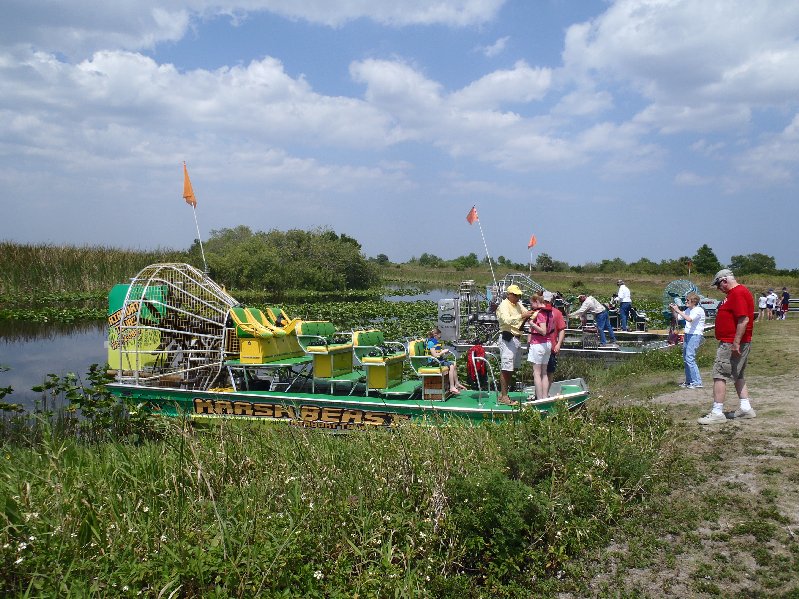 (The airboats preparing for a trip)

We stopped for lunch at a great restaurant in a small town, where I had alligator, which was really rather chewy but not unpleasant, and then drove back through miles and miles of orange groves with trees as far as the eye could see in each direction, stopping at the supermarket on the way home where I was pleased to find all the Easter chocolates had been reduced to half price. I bought enough to keep us going until next Easter, or at least until we can get post-Christmas half price chocolate Santas.