Back in the St Augustine and safely tucked up in the marina, we started work on the engine first thing in the morning to try and resolve the problem with it running too hot.
Our first plan was to check if any of the broken pieces of impeller (the black knobbly rubbery bits) had got stuck at the heat exchanger and lo and behold, as we flushed the heat exchanger through, out popped a piece! We excitedly put the all the pipes we had removed back in place and started the engine to find that although it was a little better, it still wasn't quite right, so we went back to the drawing board and decided there must be another blockage and the only thing we could do was to start at one end and check every section of pipe until we found it.
I took a quick break at lunchtime to pop to the bakery and when I arrived back armed with yummy filled croissants, I found a jubilant John hopping around the dock and a fixed engine. John showed me the two further parts of broken impeller that he had found partially blocking one of the pipes and I then joined him bouncing around the dock doing the 'we-fixed-the-engine' dance.
The day was made even better when Dan and Marcia from Cutting Class (who we had last seen several months previously in Vero Beach) arrived in the afternoon and we had a lovely time catching up with them over a beer in the afternoon before Dean picked us up to go over to his boat for dinner with him, Meg, their delightful children and their adorable Belgian Shepherd dog Lucy.
All in all, days don't get much better than this!
John went ashore in the morning to go to the supermarket with Dan and Marcia while I had a quiet morning pottering around the boat.
We moved out to the moorings in the afternoon, where John amused himself by changing the engine oil and we both enjoyed the peace and quiet of the mooring field after a couple of noisy nights in the marina!
The weather was continuing to get warmer and Wednesday turned out to be a lovely day. I somehow persuaded John to have a walk around the town and shops with me and although he wasn't too keen it turned out he was the only one to buy anything, a rather dapper new hat and some locally made cigars.
We were enjoying sundowners on board Cutting Class in the evening when a boat picked up a nearby mooring and we realised it was Craig and Lisa, who we had also last seen in Vero Beach. Dan and Marcia kindly invited them over too and when Craig and Lisa came aboard they realised they had met Dan and Marcia a few weeks before in the Bahamas, so it turned out to be a reunion for everyone!
Marcia put on a fantastic spread of nibbles followed by a lovely dinner and as the night wore on (and the wine flowed), Dan found more and more of our English terms funny and was beside himself when John said 'shopping trolley' (they call them carts over here). We then spent rather a long time trying to explain what a Cornish Pasty is to Dan and Marcia, and in the end decided it would be much easier if they just came over to England and stayed with us so we could show them! It was a great evening and wonderful to catch up with friends and hear about their adventures.
Cutting Class and Craig and Lisa had already left when we dropped the mooring and headed south in the morning.
It was slow going as we had the tide against us all way, despite John's assurances that it would change in our favour at every inlet we passed.
We passed a chap kayaking down the waterway and shouted over to say hello and he told us he was heading all the way down to Key West!
At the end of a really long and tiring day, we were happy when we finally arrived and anchored in Daytona Beach where we would spend the night before carrying on south again in the morning.
Another early start on Friday morning and not long after we left we passed the man in the kayak again and exchanged waves with him. Further down the waterway, we had to wait for the bridge to open at New Smyrna Beach as it only opens at certain times and we noticed a jet ski coming down the waterway with two dogs sitting on the back! We waved and the chap on board came over for a chat while we waited for the bridge and the dogs both seemed quite happy perched in the back of his seat and have apparently never jumped or fallen in and love riding on the jet ski.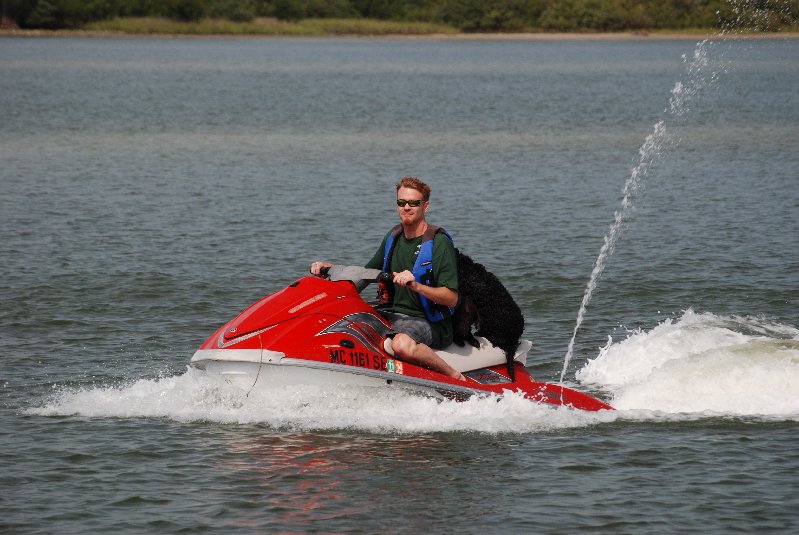 (Dogs hitching a ride!)

Further down the waterway, we spent a long time travelling in the channel which led through a large wide open area with not a lot to see, so John took the opportunity to go for a snooze down below. I happily pootled along for some time and then casually glanced behind me to find a chuffing great big barge gaining on us. I didn't want to wake up John but decided that on balance it was probably preferable to being squashed by the barge, so I reluctantly woke him so he could take the helm while the barge overtook us very close by!
The waterway was rather uninteresting until we reached the Haulover Canal – a short narrow cut through the land lined with trees that were full of birds including an osprey with a large fish it had just caught and a spoonbill that flew by over the top of the trees.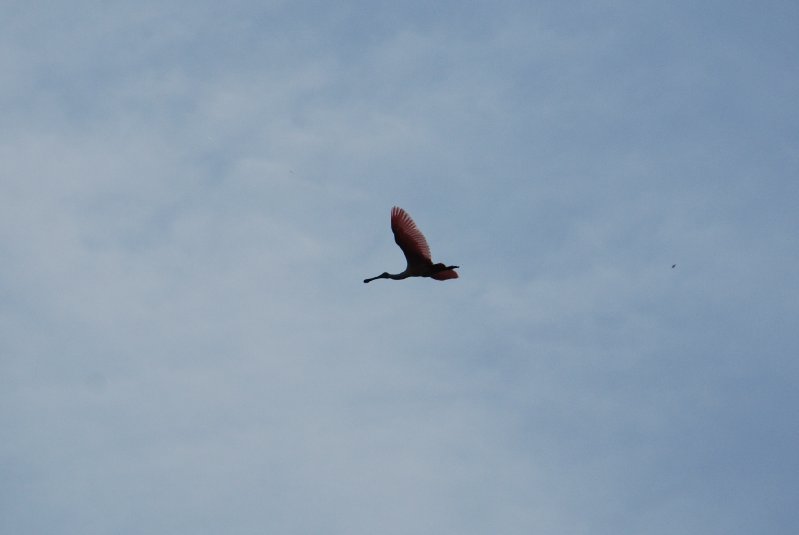 (Spoonbill)

Just past the canal, the waterway opens up into a wide area and a nearby island was completely covered in white and grey pelicans, herons and spoonbills.




(Pelicans)

A large flock of orange beaky birds (as we call them) sat on the water ahead of us and as we approached they flew past the front of the boat low to the water. A channel marker proved to be home to a nesting osprey and we were blown away by the amount of birds we had seen in such a small area.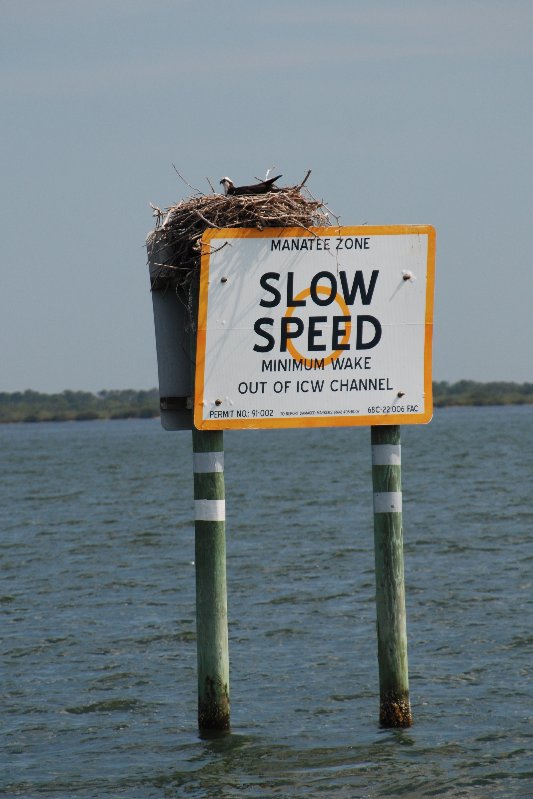 (Nesting osprey)

After another long and tiring day, we arrived in Titusville and anchored in the waterway, out of the channel and as close to the marina as we could get, which was quite a long way out due to the shallow water.
It was a long dinghy ride into the marina yesterday morning and when we arrived we were delighted to find that not only was there no charge for landing the dinghy (unusual here) but we could also use the marina showers free of charge too!
We walked into town heading for the supermarket and as we passed the park we spotted a sign saying that there was a dog show on in the park that day. We found that they were just setting up so we carried on towards town and planned to stop by again on the way back.
John had been pining for the cheese and jalapeno bread we bought from the bakery in Titusville when we visited on our way north, so we walked into town via the space memorial park and had a cup of tea and a sticky bun in the bakery, bought some bread and then headed back to the dog show via the supermarket.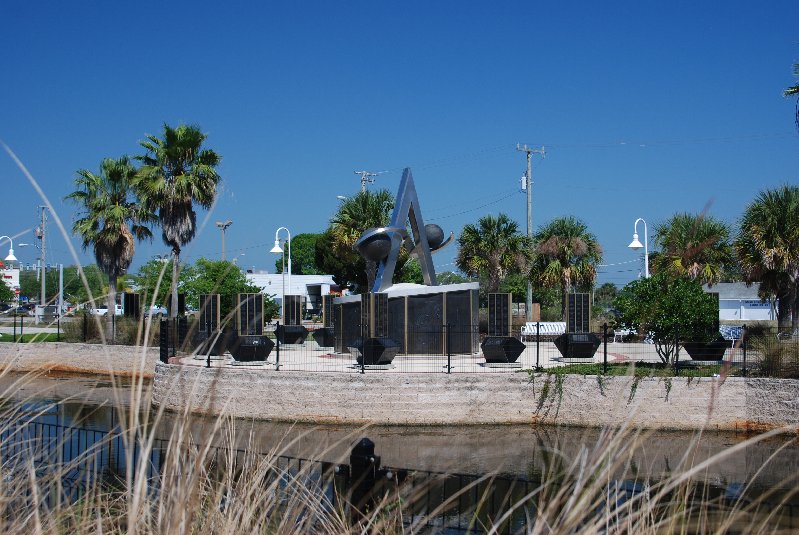 (The Space Memorial Park in Titusville)

The show was in full swing. It was run by the ASPCA and had lots of stalls selling all kinds of doggy related items along with lots of random non-dog related gubbins, lots of rescue dogs walking round with volunteers hoping to be spotted by potential new owners (we wanted to keep them all), a dog agility course, demonstrations and food and drink stalls. We bought some lemonade and watched several dogs attempt the agility course, some better than others, and then cuddled as many dogs as we could before heading back to the boat.
The weather closed in that evening and when we saw a thunderstorm approaching we decided to take preventative measures and put our mobile phones, the satellite phone and the handheld GPS in the oven where they would be protected if the boat was struck by lightning. The storm passed over and we only remembered the items that we put in the over AFTER I had made dinner on the gas rings, which have a habit of heating the whole oven up! Thankfully they were all OK, if a little on the warm side.
Today has been a very lazy day (as Sundays should be!), spent reading and relaxing on the boat , only disturbed by an almighty barney that a couple on a nearby boat launched into in the afternoon that carried on into the early evening!