As expected Wednesday blew a gale and rain hammered down in the fashion we have unfortunately become accustomed to, so we stayed snugged up the boat all day, until 6pm when the sun briefly made an appearance and we popped ashore to make sure the Chain Locker hadn't been blown away .

The winds calmed overnight and we moved back to the anchorage on Thursday morning. Just as we were anchoring, an extremely large ship that had been in the harbour next to the anchorage was preparing to leave, which meant the Harbour Master was clearing a section of the anchorage to make room for the tugs which would be assisting the ship to exit from the harbour. We anchored just inside the area that was not being cleared and watched the tugs go to work. It was a little unnerving being so close to the ship and the tugs as they were manoeuvring and although I had faith that the pilot knew what he was doing, I hatched a backup plan to make a swim for Blue Iguana if one got too close.
As I was watching the action, I glanced down the anchorage and noticed a French boat had appeared, anchored in the cleared zone and very close to the path of the tugs. As I commented to John that I didn't think he should have anchored there, Andy from Blue Iguana jumped in his dinghy and zoomed over to the French boat at top speed and we realised the boat hadn't just arrived, it had dragged from across the anchorage. Andy hammered on the side of the boat and managed to rouse the owners who I guessed were still asleep and they emerged onto the deck looked a little baffled. Luckily their anchor had caught again and the tugs managed to pass by without squishing it, which I'm sure they were very relieved about.
The sun came out and we took the opportunity to do some washing as we would be able to dry the things that couldn't be tumble dried by pegging them to the guard rails on the boat. As the washing was going, I popped into town to try and get a few last things, including a small set of speakers for my laptop as we had watched a DVD on it a few nights before and found the sound too low. Not that it would have made the film (About Shmidt) any less rubbish.
Back on the boat, John decided to test the new speakers with iTunes on my laptop and for some strange reason chose an Abba song for the test. This distressed me somewhat as I find listening to Abba on par with gouging out my eyeballs with blunt spoons in the entertainment stakes and I have no idea how it ended up on my iTunes. My defence is that I had a splurge of uploading all my CDs on iTunes before we left, including many compilation albums, so one Abba song must have snuck through the net. Mid distress, I heard a dinghy come alongside and Andy and Julie shouting "Hello" to us, and I was suddenly struck by a terrible panic and pang of shame that we would be unfairly outed as Abba fans, so I screamed at John to turn it off and ran up into the cockpit. John, having not heard the dinghy or the greetings, only saw me screaming and running into the cockpit and thought some kind of major trauma was ensuing, like we were about to be rammed by another boat or a pterodactyl had just swooped down and flown away with our dinghy, so he switched the music off and ran up into the cockpit at 400 miles an hour, tripping and cutting foot quite badly, to find me having a pleasant natter with Andy and Julie. Not wanting to appear to be a big girl's blouse, he didn't show any sign of having just gouged his foot open and just whimpered along with the conversation while blood dribbled into the cockpit and a small section of his foot flapped in the wind. After agreeing with Andy and Julie to meet up for farewell drinks the following night (as we were still planning to move on to Brest on Saturday), John showed me his injury and finally allowed himself to be in pain. I sprang into action and dived down into the boat to get the first aid kit, which exploded on opening, sending a can of freeze spray onto my bare right foot. Somehow we managed to hobble together and patch up John's foot.
We spent the afternoon looking at the new charts and planning a passage to Brest and John got out some very old harbour guides he had saved from Yachting Monthly before I was born that helpfully explained that the Marina cost 124 Francs per night and where you could hire a horse and carriage.

John woke me up in the middle of the night and seemed a little distressed. When I sleepily asked him what was wrong, he said, "You've got a plate on your head". After asking him repeat this as for one moment I thought he said I had a plate on my head, he said "Why have you got a plate on your head?" I assured him there was nothing on my head and he muttered, "Oh, its OK, I thought there was a plate on your head", rolled over and went back to sleep. He claimed in the morning to have no recollection of this and was as baffled as me.
We went ashore in the morning to stock up on provisions and fill up the water containers and I realised I had about £8 of points on my Boots loyalty card and as I was planning to leave the country the following day I may as well use it up. I picked up a few things that I needed to the value of about £12 and explained to the cashier that I wanted to use up my points as I knew this was going to require two separate transactions, one for the free stuff and one for the items I needed to pay for. The assistant was very helpful and started scanning the products and voiding them to work out the best combination to get as close to £8 for the free items as possible, but this took a little time and I could feel several pairs of eyes burning into the back of my head as a queue built up behind me. Once she had worked out the best combination, she processed the items to be paid for first and then the free items, but having purchased more items, this had put more points on my card and the value was now nearly £9. Feet were shuffling impatiently behind me as the cashier told me I had over £1 to spare and I tried my best to insist this was fine and I was happy with that but she was having none of it. She was determined I was going to spend my last £1 and point blank refused to complete the transaction until I found something else to the value of £1. By this time the queue was getting quite long and I started fearing for my life, so I dashed to the nearest display, a cabinet of soft drinks, picked up a bottle of water and dashed back to the till dodging the curses being thrown at me on the way past. I was immensely relieved that she let me off with 10p still on my card and ran as far away from Boots as a could before the lynch mob came after me.
One we has filled up the Marmite and water tanks, we wrestled the dinghy on deck to deflate it, transferring the green slime that had grown on the bottom of it onto my freshly laundered clothes.
With the dinghy packed away, everything was ready for us to set off in the morning.
We spotted a seal in the anchorage, swimming between the boats in the early evening, just before Andy and Julie came over for drinks with their adorable dog, Spike. We had a very pleasant evening over drinks and nibbles while Spike tried his best to maul anything on the boat with fur. Thank fully Travelling Bear was out of his reach.

With the weather forecast still looking favourable, we set off for France at 10am yesterday morning. Andy, Julie and Spike came over in the dinghy to wave us off as we were pulling up the anchor and after being desperate to move on for the past three weeks I was struck with a sudden sense of sadness at leaving Falmouth and I realised I had become extremely fond of it and the friends we had made there.
As we sailed out of Falmouth towards the English Channel, we passed a number of large ships anchored in the bay which we assumed were inactive due to the current economic climate and were waiting for better times to come.
It felt strange leaving England, not knowing when we would be returning. The sun peeping through the clouds and made the coastline glow and as the land gradually began to fade into the distance I felt an urge to reach out and wrap my arms around the hills, rest my head on a corn field and hold it tight. In my sudden wave of patriotism, I listened to Jim Moray songs on my iPod and as my home land finally vanished over the horizon, I was consumed by the feelings I always get when I leave these shores, a craving for Marmite.
The first few hours passed enjoyably, I listened to music and realised how much I missed it. Music has always been a big part of my life and songs are as evocative as photographs for recalling a time, place, people, or just a feeling.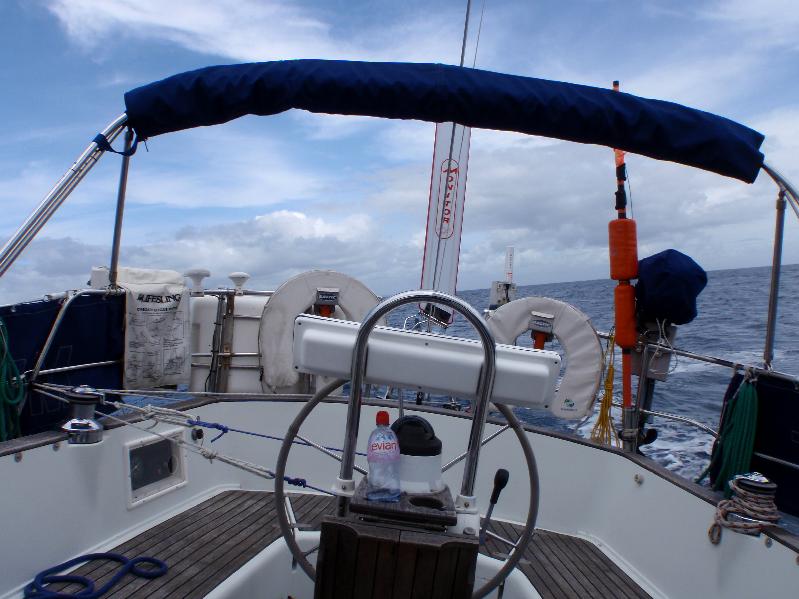 (Crossing the channel)
As time passed and we progressed in our journey, the sea became rougher and rougher and although I had dosed up on Stugeron and was wearing an acupressure bracelet on each wrist I started to feel rather queasy. I've heard that helming is one of the best things you can do when feeling a little seasick as it gives you something to focus on, so I gave it a go and after a few minutes I felt a little better, but after two hours on the helm I realised that nothing was going to stop the inevitable and I alerted John to the fact we were at DEF-SICK 1 and an eruption was imminent. He sprang into action and managed to locate a bowl just in time as I was quite spectacularly sick. After a few moments, John noticed that I was shaking quite badly and I had no choice but to retire to the saloon for a lie down. The shaking and sickness continued for the next hour or so before I drifted into a fitful sleep, waking frequently to waves crashing across the boat, the boom banging and the contents of the cupboards rearranging themselves. As one particularly large wave crashed against the boat, water flew down the companionway into the saloon and drenched the steps and the cooker.
John had to keep watch, navigate and look after me whilst getting frequently soaked on deck and it occurred to me that whilst this was pretty awful for me, it wasn't much fun for him either. He got no sleep at all during the 22 hour passage and I felt terrible for the pressure it put on him.
At about 3am, I awoke and ventured up on deck. The cloudless sky was a blanket of stars, some of which were colours I had no idea stars could be. John said he had seen a turtle in water a few hours before which was great and a stray wooden pallet that passed within feet of the boat, which wasn't. A shooting star streaked across the sky and John said he had seen several during the night. It was beautiful and as I felt a lot better I wanted to stay up and watch the sky until dawn but we were both concerned that if I did I would become ill again just when John really needed help, as we navigated through the Chenal Du Four (the passage between the coast of France and some outlying rocks and islands) and as we anchored, so I reluctantly went back down into the saloon to lie down.
John called me up just past 4am as we approached the Chenal Du Four and we passed through it as dawn broke over the Brittany coastline.
John had decided we should anchor in Cameret rather than go into Brest as this would take a couple of hours of our journey and I was still a little peaky and he was exhausted.
We reached Cameret at 8am this morning and anchored after a couple of attempts in the cold drizzle.

We both had a snooze after anchoring and woke up feeling groggy and exhausted but keen to venture into the town. After pumping up the dinghy, we went ashore and enjoyed a very welcome shower in the Marina, which revitalised us both a little.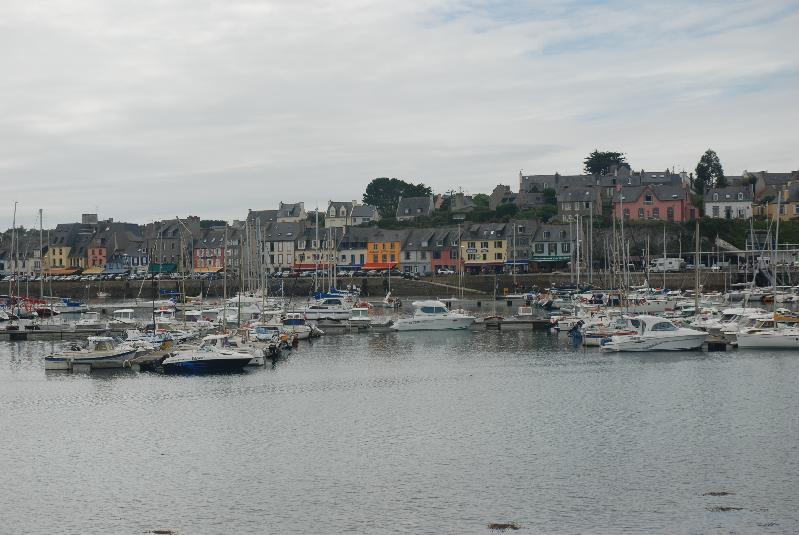 (Cameret)
There is a lovely small church on the shore called 'Notre-Dame-de-Rocamadour', so we took a look inside. There has been a church on this site since 1183, but it was rebuilt a number of times in the 16th and 17th Centuries, including once after an attempted English-Dutch Invasion in 1694, during which a cannon ball fired by one of the English boats knocked the spire from the church. Local legend has it that 'Our Lady' appeared over the church and sent the cannon ball flying back to the offending ship and sank it. It was a disastrous campaign as the French had got wind of it in advance and had reinforced the town and armed the townspeople. There were heavy casualties on the England and Dutch side, with 800 invading men and 400 men on ships lost and over 400 men captured. The French lost less than 50 men and a small dog in a stripy jumper called 'Jean-Claude le Chein'. The townspeople were heroes and we exempted from taxes as a reward.
Ok, I made up the dog bit, but it was getting a bit too serious and informative.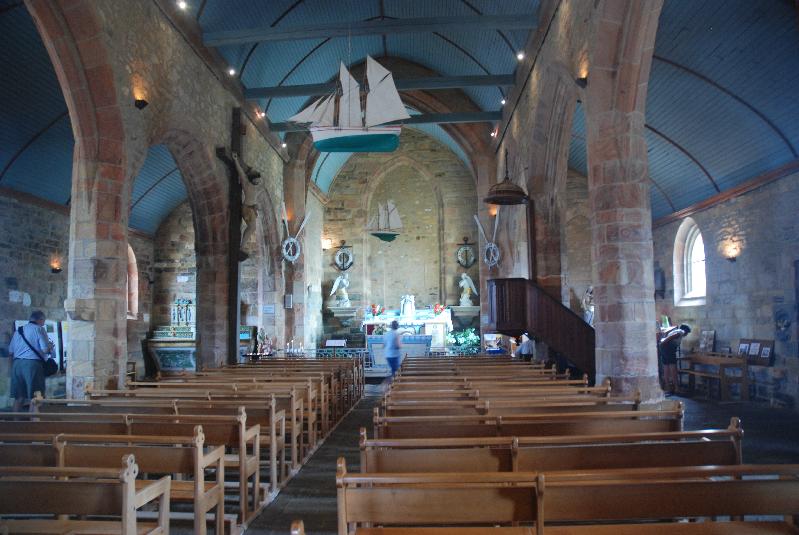 (Notre-Dame-de-Rocamadour church)
The church was completely restored after a fire in 1910 and has a number of small wooden boats hanging from the ceiling which were traditionally gifted to the church by local fishermen before leaving on a long fishing campaign.
We wandered along the seafront and passed a number of large old wooden boats which were decaying on the shore. This sounds like an eyesore, but I thought they actually look quite wonderful.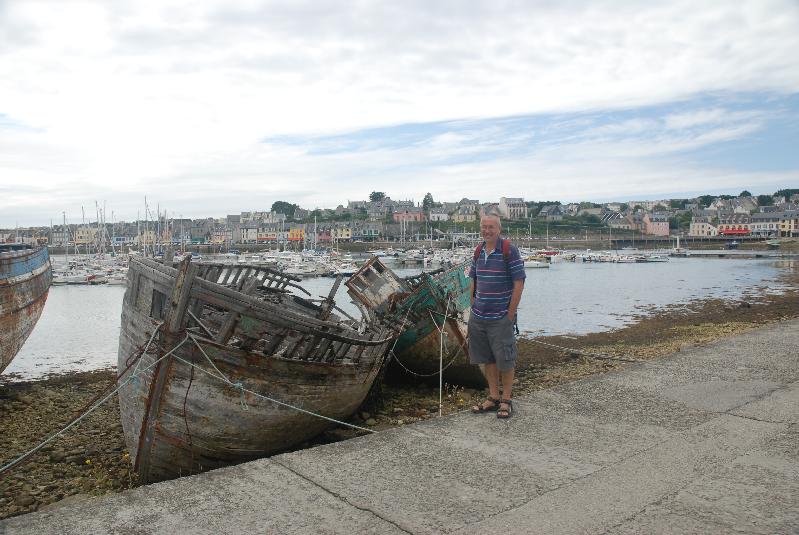 (The old boats on the shore)
Carrying on through the town, we passed numerous cafés and restaurants, bars and souvenir shops and the locals got back at us for the 1694 attempted invasion by charging us the value of the French monthly cheese export for two crepes and a jug of cider. Thoroughly exhausted, we returned to the boat, stopping only to admire the crystal clear sea.
John cooked us pie and tea towel for dinner (I have no idea how he managed to burn the tea towel in oven and thought it best not to ask) and we retired for more much needed sleep.